OVERVIEW: The way to well-written science
PART I: Paragraphs and Sentences
SET A: Paragraphs: The Maps Behind Them
SET B: Paragraphs: Using Maps to Meet Readers' Expectations
SET C: Paragraphs with Something Extra: Points and Tails
SET D: The Generic Section: Expectations and Maps as Blueprints
SET E: Scientific Sections: The Methods and Results
SET F: Scientific Sections: The Discussion
SET G : Scientific Sections: The Introduction
SET H : Sentences
SET I : The Paper as a Whole
PART II: The Paper and its Sections
SET 1: Argument Parts
SET 2: Indicator Words
SET 4: Locating Arguments in Prose
SET 5: Rationale's Essay Planner
SET 6: Evidence in Arguments: Basis Boxes
Synthesis 1: Position-Early Paragraphs
Synthesis 2: Position-Final Paragraphs
Synthesis 3: Writing a Discussion I
Synthesis 4: Writing a Discussion II

So you now know the different types of evidence that can be put to use in providing externally verfiable sources for your argument. But now we must also think about the quality of evidence. There is some overlap with evidence type here - a publication might be considered overall to be stronger than an assertion. B but the differences in quality within a type of evidence can be sufficient to make such generalisations impossible. Some publications, for example, have such poor production standards that anything drawn from them would provide evidence of only the most dubious kind. We could say an an argument based on porr evidence is like a house that does rest upon bedrock, but a rocky layer that is highly unstable.
Let's reflect more upon the quality of evidence.
Some sources provide sound support for a claim: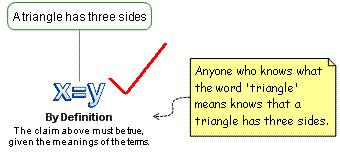 Other sources provide only shaky support for a claim. They are weak, rather than dubious: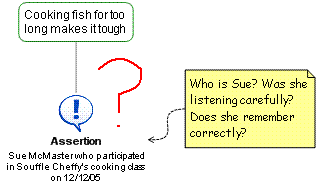 Some sources are unreliable and provide nil support for a claim: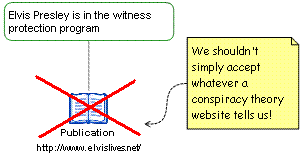 Content of this page drawn in whole or part from the Austhink Rationale Exercises with permission from Austhink.