OVERVIEW: The way to well-written science
PART I: Paragraphs and Sentences
SET A: Paragraphs: The Maps Behind Them
SET B: Paragraphs: Using Maps to Meet Readers' Expectations
SET C: Paragraphs with Something Extra: Points and Tails
SET D: The Generic Section: Expectations and Maps as Blueprints
SET E: Scientific Sections: The Methods and Results
SET F: Scientific Sections: The Discussion
SET G : Scientific Sections: The Introduction
SET H : Sentences
SET I : The Paper as a Whole
PART II: The Paper and its Sections
SET 1: Argument Parts
SET 2: Indicator Words
SET 4: Locating Arguments in Prose
SET 5: Rationale's Essay Planner
SET 6: Evidence in Arguments: Basis Boxes
Synthesis 1: Position-Early Paragraphs
Synthesis 2: Position-Final Paragraphs
Synthesis 3: Writing a Discussion I
Synthesis 4: Writing a Discussion II

Rationale offers us many sorts of basis boxes: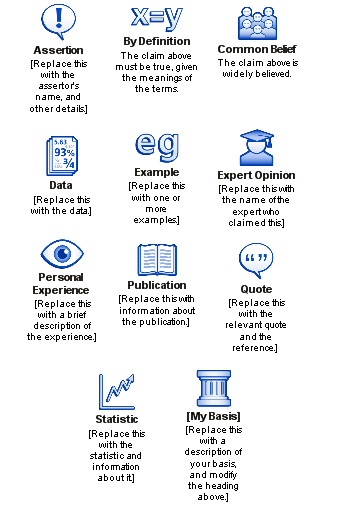 You can add a basis box to a map in various ways. One way is to first add a reason, then change it to any type of basis box via the right-click menu. Another way is to open the Building Panel, then within the Build pane you will find a Basis sub-pane.
If you change to the Basis sub-pane you'll need to click the Explore pane to get this window back. Try switching between the two windows now.
Content of this page drawn in whole or part from the Austhink Rationale Exercises with permission from Austhink.